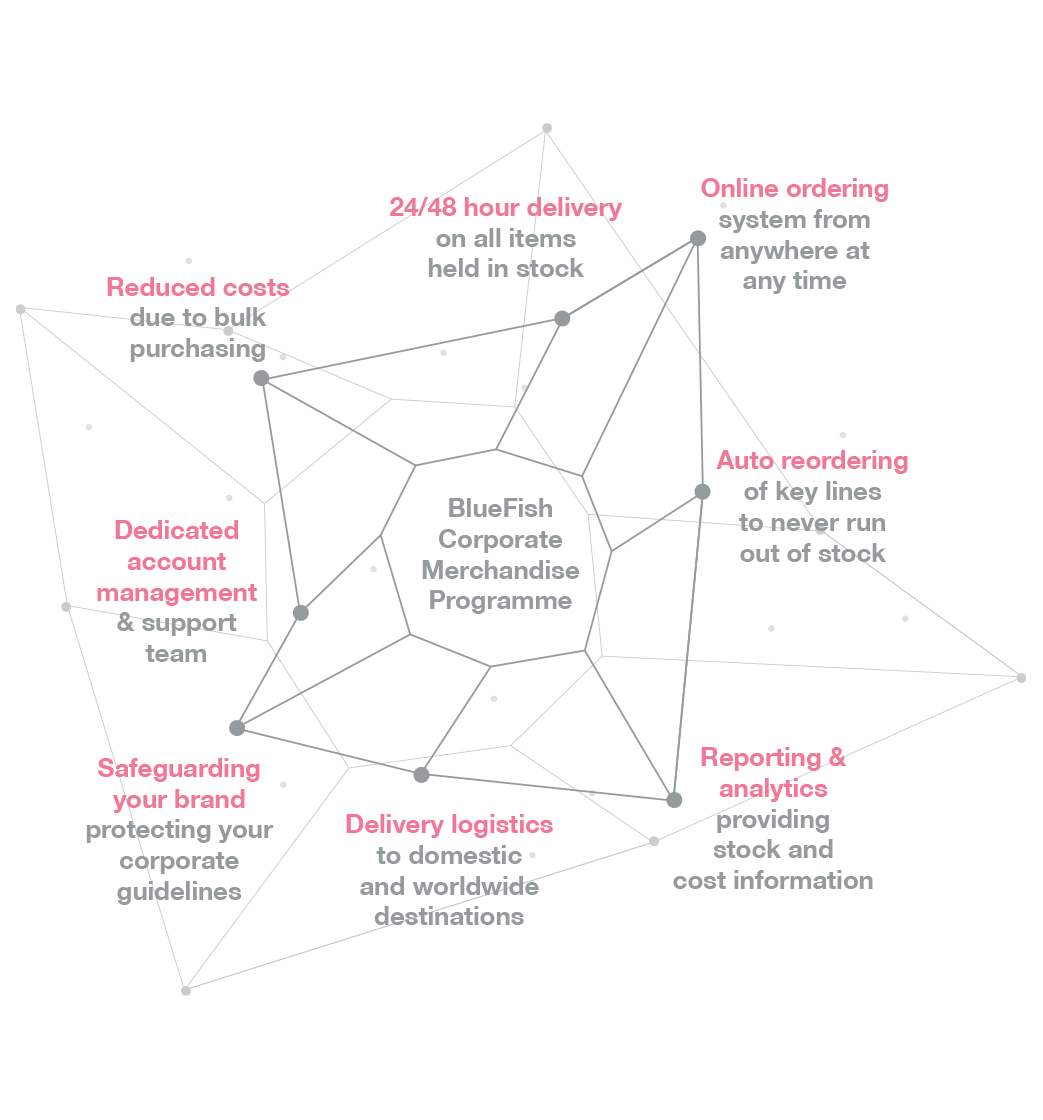 Corporate Merchandise Programmes (CMP's)
What are CMP's?
Corporate Merchandise Programmes offer clients a fully managed and cost-effective promotional merchandise and branding service.
This is achieved by BlueFish supplying merchandise, branded with your corporate designs and holding them in stock for immediate picking, packing and despatch at any time.
Benefits of a CMP
The benefits to clients are numerous and tangible, they include the following:-
Reduced Costs - by ordering merchandise in bulk, clients benefit from huge cost savings due to the economies of scale of mass production. The savings generally outweigh the cost of setting up and running the programme.
Fast Turnaround - because products are held in stock, clients can order them for immediate delivery within just 24/48 hours. This is a huge time saving and allows companies to be confident that even last-minute events can be fully branded with corporate materials. This element is especially useful for products that traditionally have longer lead times and/or are produced outside of the UK.
Brand Protection - by ordering stock of your promotional items in advance, you can ensure that all products follow you brand guidlines and corporate style. This means that every promotional item that bears your brand has a consistent look, style, message and quality.
Online Ordering 24/7 - for most of our programmes we will set up an online portal so that clients can place orders at any time, from anywhere. We can tailor the system to the requirements of the client and include elements such as minimum order quantities, cost centres, ordering tiers and authorisation. Part of the system is a suite of management reports that are produced weekly so clients know exactly what they have in stock at any given moment in time.
These are just some of the headline benefits of Corporate Merchandise Programmes. There are many other reasons to consider utilising our programmes such as auto-reordering, flexible delivery logistics, full warehousing facilities and dedicated account management.
If you think that your organisation could benefit from a BlueFish Corporate Merchandise Programme then get in touch and talk to one of our CMP experts,